Web Design in Hull & East Yorkshire
Our main service is the design of affordable websites for local businesses in the Hull & East Yorkshire region (although we are happy to work with companies outside this region as well). This includes brand new websites for new businesses as well as redesigns for established businesses who already have a website.
There are a number of things a website needs to do well in order for it to achieve results for your business. It must:
rank well on Google so that potential customers can easily find it.
have a professional design so that it gives a good impression of your company and customers feel at ease doing business with you.
have a good structure so that customers can easily navigate around your website and find what they are looking for.
have good calls to action such as contact forms so that visitors make that important first step of getting in touch with you.
work well on a range of devices including smartphones and tablets.
The websites we design do all of the above well. If you would like us to design a website for your business or if you would like a quotation, please don't hesitate to contact us. Alternatively, please keep reading for information about our web design services.
WordPress Content Management System (CMS)
All the websites we design use a content management system (CMS) called WordPress. WordPress is the most popular CMS platform and powers 30% of all websites on the web ranging from big multinational corporations to small local businesses.
The great thing about a CMS like WordPress is that we can give our clients a login to their website enabling them to easily change content on pages of their website and add news articles.
Another advantage of using WordPress is that Google seems to love WordPress websites and ranks them high on its search engine results. And because we love WordPress so much we are able to design bespoke sites using this software which makes our websites look so good and so different.
Google Search
As we mentioned earlier it is vital that your website ranks well on Google in order for potential customers to find your site. You could have the greatest website in the world but if it performs poorly in Google it will get few hits and will not generate much business for your company. The websites we design for our clients perform very well on Google with many appearing in the #1 position for their chosen keyword phrases. We achieve this by ensuring our websites:
have good content
make good use of heading tags such as H1, H2, H3 etc
have good meta data
load quickly
use SEO friendly URLs
have good navigation structures
have an XML Sitemap
are submitted to Google Search Console
avoid duplicate content
Website Design & Navigation
We design bespoke websites that look attractive and incorporate our clients' brand and colours. It is important that your website looks professional so that visitors to the website view your company as credible and feel at ease either contacting you or purchasing something through your website, especially if it is an E-Commerce website. Having a website that doesn't look professional can actually be worse than having no website at all because it can put potential customers off your business.
Our websites include the latest design trends such as sticky header/navigation, subtle animations and parallax scrolling background images. We also ensure that our websites have good, logical structures so that visitors can easily navigate around the website.
Responsive Web Design
Nowadays it is vital that websites work well on a range of devices including tablets and smartphones. Every year the number of people accessing websites on their mobile and tablet devices is increasing while the number of people accessing websites on desktops is decreasing. We have now reached a point where websites are viewed more times on mobiles and tablets than they are on desktops.
If your website didn't work well on mobiles and tablets, visitors would quickly click off your website and take their business to one of your competitors instead. Another reason why it is important to have a responsive website design is because Google ranks mobile-friendly websites higher than non-mobile-friendly websites.
All the websites we design are fully responsive and work great on all devices.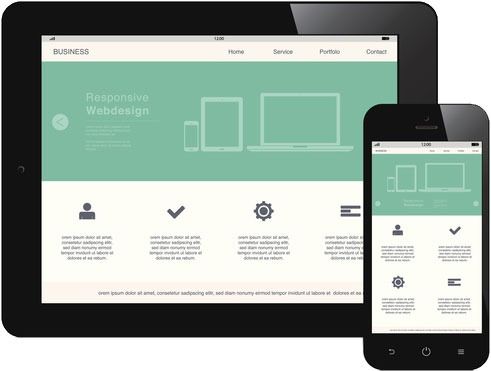 Other reasons to choose Get Noticed Locally to design your business's website:
We can make ongoing updates to our clients' websites that other web design companies would charge extra for.
We take regular backups of all our websites so they can be quickly recovered in the rare event that something happens to them.
We use reliable servers to host all our websites.
Our designs are always bespoke, meaning that we don't rely on templates.
If you already have social media accounts set up (Facebook, Twitter etc) we can easily embed feeds for these into you website.